Ehlenbach's Company Policies
Shipping Policy
Returns and Refunds Policy
Payment Policy
Privacy Policy
Please Check Your Order Status or contact Customer Service with any questions or concerns.
UPS GROUND TRANSIT TIMES
FEDEX GROUND TRANSIT TIMES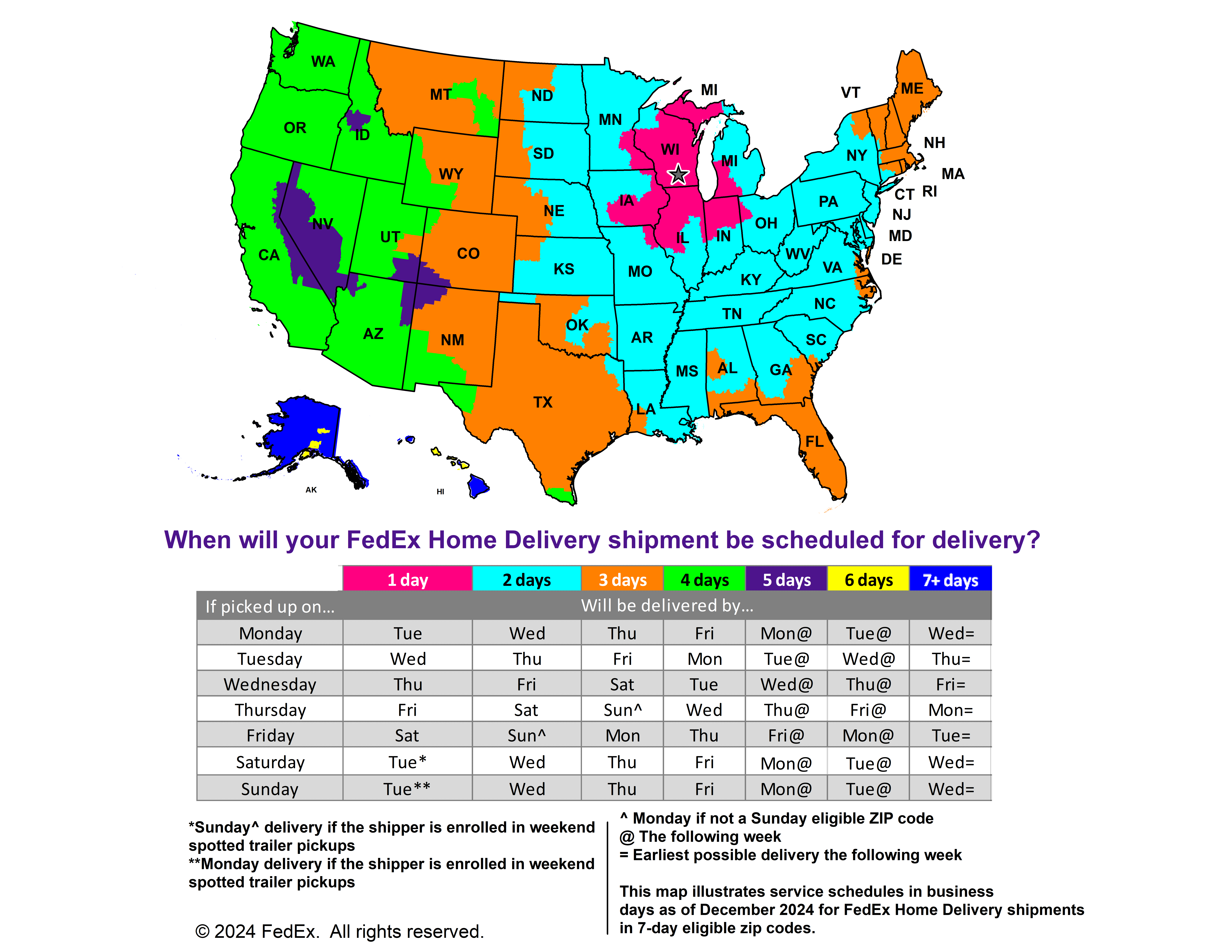 Shipping Charges
Our product prices do not include shipping costs. We ship our products via UPS and FedEx. Due to the perishability of our products, we recommend using UPS/FedEx overnight during hot weather. Ground Service is usually sufficient when packages are being sent to states that border Wisconsin….provided that the weather is not too HOT. We do not ship to any other countries other than the United States.
Packaging, Handling Charges & Porch Piracy
We have a $5.00 handling charge per package sent. This charge covers all packing materials and labor needed to process each order. This charge is ALREADY INCLUDED in each shipping cost.
If your order is traveling far and you would like to insure product quality and freshness, we recommend that you add one or more ice packs to your order.
If you wish to protect your shipment from PORCH PIRACY, we strongly recommend that you Require Signature Upon Delivery. We cannot be held responsible for packages that are stolen that did not have a signature required. If you do not wish to pay for the extra security, we highly recommend shipping to a business or to a neighbor who will be home if you are unsure of the neighborhood.
Ordering Info
Because we are shipping perishables, we use Monday and Tuesday as our primary shipping days. This allows extra time for your package to arrive before the weekend, as UPS does not normally deliver on Saturday or Sunday. If a Saturday delivery is needed use FedEx home delivery as they do deliver on Saturdays. Shipping requests for Wednesday or Thursday may require additional UPS/FedEx Air Service charges depending on destination and weather conditions.
Be sure to ORDER EARLY during the holiday season! Online orders will be processed as quickly as possible. If sending to more than one address, a separate order must be placed for each one. You may also fax multiple orders to us at 608-846-4793. Please be sure your addresses are current.UPS and FedEx will not deliver to a P.O. Box. We need a physical street address and house number. If the package is to be delivered to a rural route, please add the name of the road and include a phone number. We cannot be responsible for shipping delays or for non-delivery when the address given to us is incorrect or incomplete.
Bulk Cheese Cuts
We cut all of our bulk cheese by hand. We get as close as possible to the weight ordered. All bulk cheese cuts are approximate.
Returns and Refunds Policy
How To Return An Item
Your item must be in its original unused condition to be returned, unless there is a manufacturer defect. Your must return the item within 30 days of your purchase.
1. Please contact us at 1-800-949-4791 or email us at info@ehlenbachscheese.com to discuss situation. Many situations can be handled immediatly over the phone.
2. Mail your returned item to:
Ehlenbach's Cheese Chalet
Returns Department Tracking #
4879 County Road V
DeForest, WI 53532
3. Include in your package a signed letter stating the reason for your return and the original receipt.
Return Exceptions
Some items can not be returned if they are opened.
Merchandise that has been worn, used, or altered will not be accepted for return or exchange.
Restocking Fee
All items are subject to a 10% restocking fee, this will be deducted from your refund. We also do not refund the original shipping and handling that you paid on the order.
Payment Policy
Accepted Methods of Payment
Credit Card (Visa, Master Card, American Express, Discover)
Cash On Delivery
Credit Card Charges
Your credit card will be charged when you place your order. If we are not able to fulfill your order for any reason your credit card will be refunded.
Mailing Address For Money Order
Ehlenbach's Cheese Chalet
Returns Department Tracking #
4879 County Road V
DeForest, WI 53532
Privacy Policy
Our Commitment To Privacy
Your privacy is important to us. To better protect your privacy we provide this notice explaining our online information practices and the choices you can make about the way your information is collected and used. To make this notice easy to find, we make it available on our homepage and at every point where personally identifiable information may be requested.
The Information We Collect:
This notice applies to all information collected or submitted on the [company name] website. On some pages, you can order products, make requests, and register to receive materials. The types of personal information collected at these pages are:
Name
Address
Email address
Phone number
Credit/Debit Card Information
(etc.)
On some pages, you can submit information about other people. For example, if you order a gift online and want it sent directly to the recipient, you will need to submit the recipient's address. In this circumstance, the types of personal information collected are:
Name
Address
Phone Number
(etc.)
The Way We Use Information:
We use the information you provide about yourself when placing an order only to complete that order. We do not share this information with outside parties except to the extent necessary to complete that order.
We use the information you provide about someone else when placing an order only to ship the product and to confirm delivery. We do not share this information with outside parties except to the extent necessary to complete that order.
We offer gift-cards by which you can personalize a product you order for another person. Information you provide to us to create a gift-card is only used for that purpose, and it is only disclosed to the person receiving the gift.
We use return email addresses to answer the email we receive. Such addresses are not used for any other purpose and are not shared with outside parties.